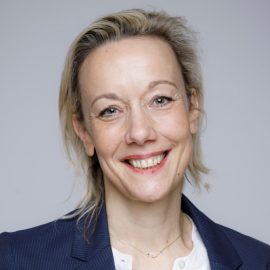 Chief Human Resources Officer & Chief of Staff
Caroline Daniere serves as Chief Human Resources Officer and Chief of Staff, she is a member of DBV's Executive Committee, responsible for defining strategies to build culture and drive success through recruitment, retention and alignment across multiple geographies. In her role as Chief of Staff to the CEO, she is responsible for overseeing the global collective success drivers for the Company, leading the transformation from a development-stage biotechnology company to a potential commercial organization.
Ms. Daniere brings more than 20 years of global experience in finance, total rewards and compensation and benefits roles in the life sciences and pharmaceutical industries. Prior to joining DBV in September 2019, Ms. Daniere served as Head of International Mobility & Global Rewards for Sanofi, and held a range of other HR global leadership positions at Sanofi and Sanofi-Pasteur based in France and in Asia.
Ms. Daniere received her master's degree in finance and economics from INSEEC Masters of Science & MBA Programs, as well receiving her Global Remuneration Professional certification (GFP) from World at Work.